All it took was one trip to The Windy City to blow me away - literally. However, enduring through Chicago's 20-degree weather and powerful winds on a daily basis happened to be one of the last things on my mind when exploring this new city. Why is that, you ask? Well, let's rewind back a bit.
I started my Instagram (which was solely dedicated to fashion at the time) in March 2015 as a creative outlet to escape reality. Around that time of my life, I was confused with what career path to pursue so I ended up picking up a part-time shift at a local spa while I figured things out. In fact, I found that managing @missmisschelle served as one of my most enjoyable tasks of the day that kept me from losing my mind from the boredom and repetitiveness of my previous lifestyle. Since the spa wasn't very busy on weekdays, I found myself scrolling through Instagram 80% of the time (call me best employee of the year, right?) and engaging with various girls who actively supported my posts. Outside of work, I would continue to spend countless hours on Instagram by commenting on others' pictures or scheduling photoshoots for da gram. From 2015 to this current day, I still keep in touch with four particular women and developed a special bond with them for the last two years - a bond that I knew was much stronger than even some of the current relationships/friendships that I had back at home. When you hold this strong of feelings towards a friendship, it only makes sense to finally meet in person for the first time, am I right? ;)
Thus, Thy, Huyen, Fiona, Van, and I decided to book a trip to Chicago to celebrate our two-year friendship through Instagram. I'll be honest here - I knew Instagram was a great way to network with other people, but I never knew that it would introduce me to life-long friends. Thanks to Instagram, not only do I feel forever blessed to be supported by these wonderful women and a positive community, but I am also grateful to have fallen in love with a career and passion that have changed my entire life for the better.
We all naturally clicked as soon as we met and I made sure to enjoy the most of my days with these girls. My good pal and travel buddy, Sharon, joined the party the very next day!
Arriving in Chicago on a Monday night, we met up at Loew's Hotel before heading out to dinner. We dined at The Slurping Turtle, a hipster restaurant that whips up some exceptional pork belly baos. These baos were SO good that I ordered a second round - no surprise there, hah. And after dinner, who could forget dessert? ;) My group and I hit up Molly's Cupcakes, a famous Chicago cupcake shop that bakes the most moist of cupcakes. Now THIS is a cupcake shop totally worth hyping about. Molly's Cupcakes features extraordinary cupcake flavors such as Creme Brûlée, Peanut Butter Nutella, Tiramisu, Coconut, and more! Just from one bite of the cupcake, you can already taste the creamy creme brûlée filling and the perfectly torched caramelized crust. If only some of their cupcakes weren't made to eat within a couple of hours, I would have flown home with a box of Molly's Cupcakes for my family in a heartbeat.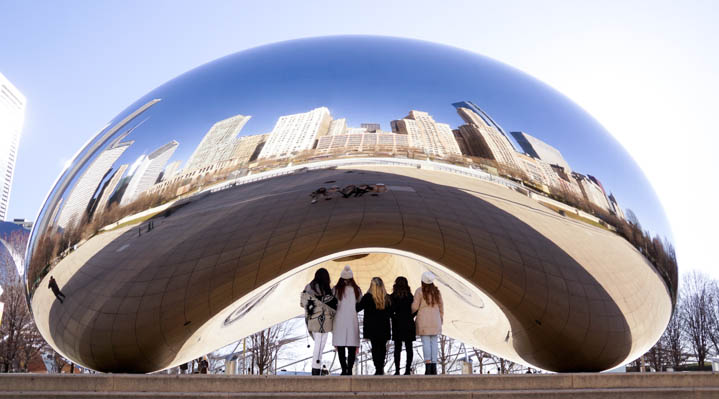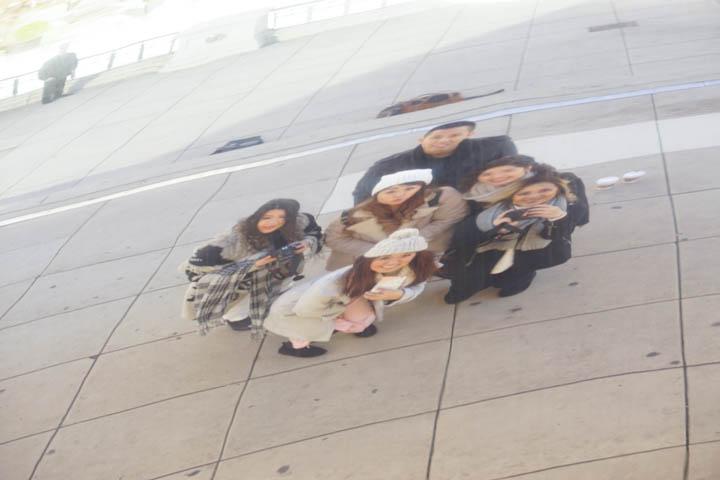 Besides eating our way throughout Chicago, we also photographed our way throughout this picturesque city. From Skydeck Chicago to The Bean (aka The Cloud Gate) to the middle of the busy streets, we've captured enough pictures to fill our Instagram feeds for the next two weeks, hah. First and foremost, I would highly recommend checking out Skydeck Chicago unless you have a huge fear of heights. Catching a gorgeous glimpse of the city from 103 floors above ground level, Skydeck Chicago definitely captures the true beauty of Chicago. Don't forget to take a touristy shot before you leave! ;) For The Bean, I would recommend waking up super early to avoid the crowds at this popular tourist hot spot. We arrived at The Bean at approximately 8:30AM to a relatively empty tourist site. The Bean is a pretty intriguing sculpture to look at, especially when you walk up closely to see a distorted reflection of yourself looking right back at you, haha! However, all you need is to spend a good 10-20 minutes at The Cloud Gate before the excitement begins to die. By the time we left, a massive crowd formed around The Bean. The earlier you get there, the better!
Every time we called it a night, we retreated back to our cozy and spacious hotel room at Loews Chicago Downtown Hotel. The hotel lobby felt very luxurious and inviting, featuring the concierge booth, multiple lounge chairs, and Huyen's husband's favorite - the bar. Also, we cannot forget my favorite part of all hotels - the fitness room. Call me crazy, but I actually feel more motivated to work out while on vacation - maybe it's the guilt that comes with eating an excessive amount of calories during vacation, haha! Huyen and I packed multiple workout outfits, as we agreed to hit the gym at least three times during our trip. Little did we know we would only step foot in Loews' fitness room only once that trip, hah. All in all, I was very impressed with the presentation and cleanliness of the gym facility and I love how Loews provided disposable earbuds for fitness enthusiasts who don't happen to have a pair on them. Good thinkin', Loews!
Looking back on this trip, one of my favorite parts was being able to meet a few Chicago photographers and exposing myself to additional creatives who shoot with different composition and editing styles. On two separate days, we met up with Rudy, Victor, Jon, Jimmy, and Mitch. I'll list their Instagram handles below for anybody who would like to check their portfolios out :) Also, I cannot forget to thank my good photographer pal from LA, Sharon Litz from @sharonlitz, for shooting my photos for the last couple of months and for coming on this trip with me!
Chicago Photographers:
Jimmy from @jimmykurz
Mitch from @mitchdinello
Jon from @jonfromchicago
Victor from @prozpris
Rudy from @thatrudyguy
One of our last adventures as a group included a pitstop to the famous Lou Malnatis for some good ol' Chicago deep dish pizza and a fun kitchen tour! Now I can check off of my Chicago bucketlist - observe a chef prepare a deep-dish Chicago pizza from scratch, CHECK! From the precise placement of the crust to the cheese to the meat, we saw it all! Following the tour, we dug into a delicious salad bowl, spinach cheesy bread, and fresh-out-of-the-oven deep dish pizza. Although Chicago is popular for their signature deep dish pizzas, I couldn't help but refill my plate with their salad. I kid you not, Lou Malnatis' salad dressing is pure addiction. A majority of us purchased a salad dressing bottle before heading out the door, which sounds like the perfect souvenir to bring home if you ask me. As for me, I made sure to buy TWO bottles since I'm a huge salad addict back at home and just knew that one bottle would not be enough ;)
After our last lunch together, half of our group headed back to the hotel room to nap while the other half went shopping. With the help of Instagram and the influential power of social media, I am extremely happy to have created such fun memories at Chicago for the very first time and can definitely imagine going back again soon! Until next time, Windy City!
Much Love,