Because I live only an hour away from La Jolla, I swear that I need to visit this beautiful and beachy city more often! From this past Wednesday to Thursday, Sharon and I spent hours walking through the streets of La Jolla with a DSLR in hand and wiping out every delicious entree in sight. We stayed at the gorgeous teal-themed Empress Hotel, which was located in the center of all fun and exciting attractions - including La Jolla Cove and various restaurants that we wanted to cross off of our bucketlist. Since the majority of our trip comprised of eating (sorry not sorry, heh), I've compiled a list of bomb La Jolla eats that you should visit if you're ever in the area!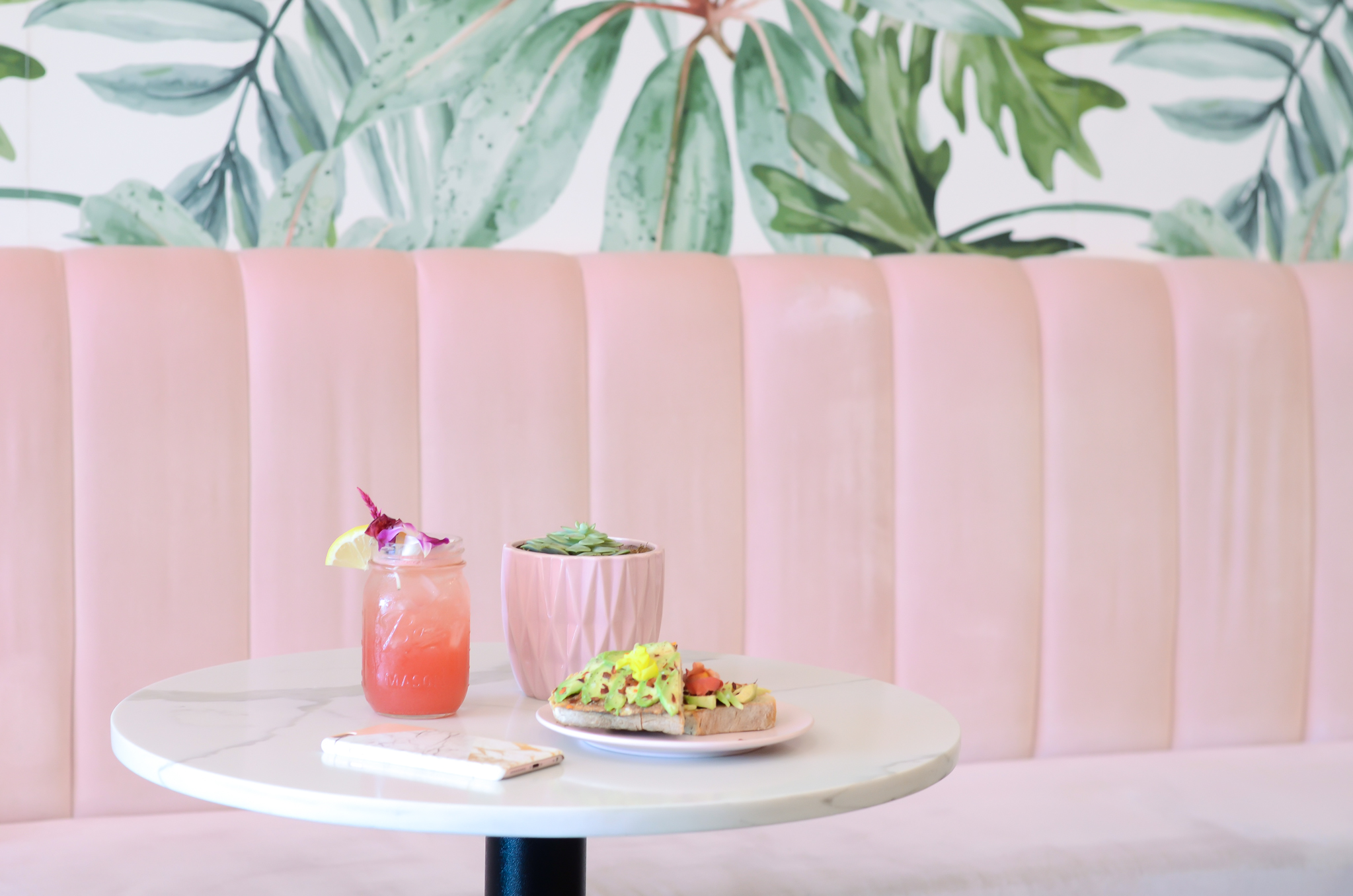 So Holy Matcha isn't exactly located in the city of La Jolla, but it's close enough in distance so I decided to include it anyways! Despite the poor ratings on Yelp, I can safely say that I would return to Holy Matcha again in a heartbeat the next time I'm in the La Jolla vicinity. Not only can you label the aesthetics of this shop #interiorgoals with their pink booths and leafy wallpaper, but their menu options top the list for Instagram #foodgoals as well. I ordered an Avocado Toast and Pink Lemonade, which both came with flowers! I was about to eat the flowers before Sharon warned me that they were probably not edible, LOL! The Avocado Toast contained flavors that were out of this world and I swear they used some secret addictive ingredient that makes you want to order a second toast on the spot. Hands down, this is one of the best Avocado Toasts I've ever had. If I lived in La Jolla, Holy Matcha would probably be one of my favorite places to work at, as there were outlets underneath each booth. Score!
Personal Favorites: Avocado Toast, Pink Lemonade
Puesto was actually one of the first restaurants that I've dined at when I visited La Jolla a couple years back for Yelp Spring Break San Diego. From three years ago, I can still picture how delicious their Elote was and it did not disappoint when I tried it again this past week. While Sharon ordered various vegetarian options, I opted for the 3 Taco Mix & Match. Puesto is highly known for the use of their blue corn tortillas, and I happily selected their lobster, salmon, and filet mignon taco options. Lastly, don't forget to order their delicious Iced Horchata! When in La Jolla, you always have to order horchata because no place makes it better ;)

Personal Favorites: Iced Horchata, Elote, Lobster Taco
Yes, it's confirmed - Herringbone looks as gorgeous outside as it does inside! From a distance, you can spot this restaurant by its intimate setting and beautiful use of fairy lights. Because of its romantic and dim-lit atmosphere, this is the perfect restaurant to take a loved one for an anniversary dinner or play catch-up with your girlfriends (literally, the table of four girls next to us were trading Tinder dating stories over drinks, LOL!). What I loved about our experience here was the passion and enthusiasm from our particular waiter. Not only did he passionately highlight Herringbone's top dishes, but he shared with us the precise details from how the entree is cooked to what ingredients they incorporate in each dish. With his recommendations, we ordered a lovely table spread of the Curried Cauliflower, Vegetarian Special personally customized for Sharon, Crab Cake, Ahi Poke, Brussel Sprouts, and Branzino. Out of all of our dishes, my favorite entree had to be the Ahi Poke, as the powerful flavors of the fish went really well with the deep fried seaweed. For dessert, we shared the Toffee Pudding and Herringbone Sundae. This sundae dessert was over-the-top amazing and I have never gushed over a dessert as much as this one. If I ever want to dine at a fancy restaurant in La Jolla, Herringbone would definitely be a recommendation that would pop up off the top of my head.
Personal Favorites: Ahi Poke, Herringbone Sundae
According to Yelp, Shorehouse Kitchen is ranked as one of the more popular brunch spots in La Jolla. We dropped by with hungry stomachs and left the restaurant feeling completely food coma'd out so you already know that their portion sizes are more than abundant! Thanks to our waitress' recommendation, I ordered the Short Rib & Hash Brown Pancake with a side of English Muffin and it was one of the best breakfast options I have ever tasted. If I visited La Jolla again, I would definitely order this same entree again without hesitation - you can even call it my "usual" ;)
If you're ever visiting La Jolla, I hope that you look into these restaurant recommendations and let me know what you think! Also, if you have any restaurant recommendations that you'd like to add to my list, please leave me a comment below - I'd love to check them out!
Much Love,